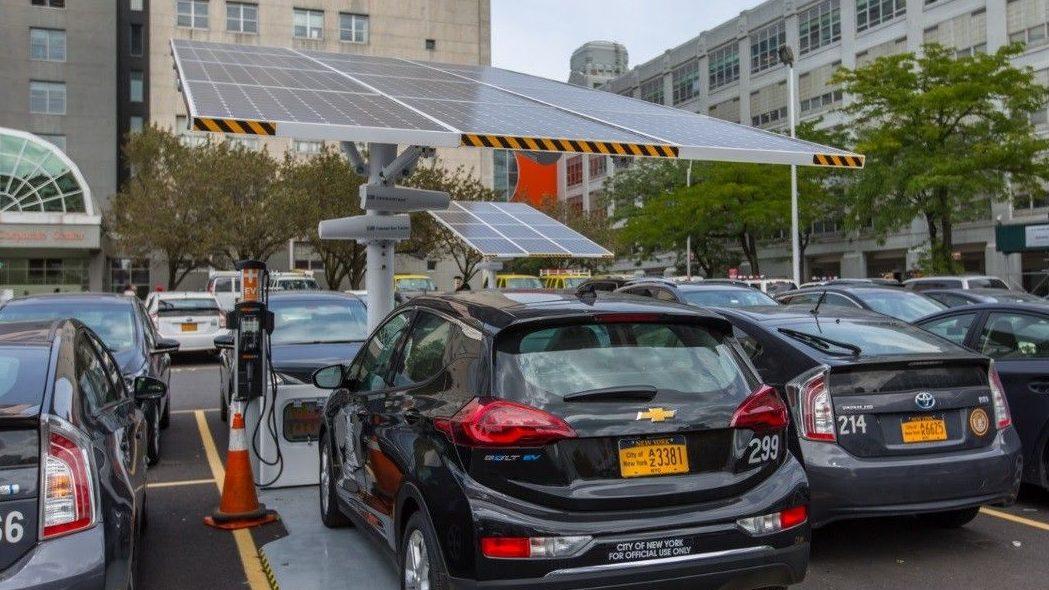 Cities working to electrify their fleets are seeing significant savings, according to recent data from New York. Last week, news broke that the maintenance costs on all-electric fleet vehicles operated by the New York City Department of Citywide Administrative Services (DCAS) are as much as 88 percent lower than hybrid and gas-powered fleet vehicles.
The results of an analysis of over 1,800 fleet vehicles for 2018 revealed the all-electric Chevy Bolts in the fleet had the lowest average annual maintenance cost of all vehicles at $205. Gas-powered vehicles had average annual maintenance costs above $1,000. The average annual maintenance cost of a DCAS Nissan Leaf was 76 percent lower than the gas-powered Ford Fusion. Savings associated with electric vehicles over their hybrid and gasoline counterparts hold up even when accounting for higher vehicle purchase prices and charging stations. Calculations including these elements reflect a 21 percent cumulative savings for a DCAS Leaf compared to the Fusion.
The DCAS operates almost 550 charging stations with plans to add fast charging stations by 2020. Statewide, New York has plans to accelerate electric vehicle adoption and deploy charging infrastructure under the Charge NY plan administered by the New York State Energy Research Association (NYSERDA). Progress on EV and charging infrastructure deployment in New York can be tracked through the EValuateNY tool, created by Atlas Public Policy for NYSERDA.
NYC is far from the only city banking on savings from fleet electrification. Spearheaded by the Smart Columbus initiative, the City of Columbus has set a goal to add 300 EVs to the municipal fleet by 2020. The city was the winner of the 2016 U.S. Department of Transportation's Smart City Challenge and received grants totaling $50 million to transform their transportation system. This grant supports an innovative lease financing model that draws on several sources of funding to accelerate EV adoption and is outlined in a case study written by Atlas as part of our work for Smart Columbus. City officials are hosting a webinar on March 26th to share experiences from its EV procurement efforts.
As cheaper electric vehicles enter the market, fleet owners can experience increased savings and continue to see the benefits of fleet electrification. Follow the updates to the Public Funding Awards and Public Requests Dashboards to track how municipalities and transit agencies are achieving electrification targets. Or you can run the numbers yourself using the Fleet Procurement Analysis Tool, a free resource available on EV Hub.
About the author: Conner Smith