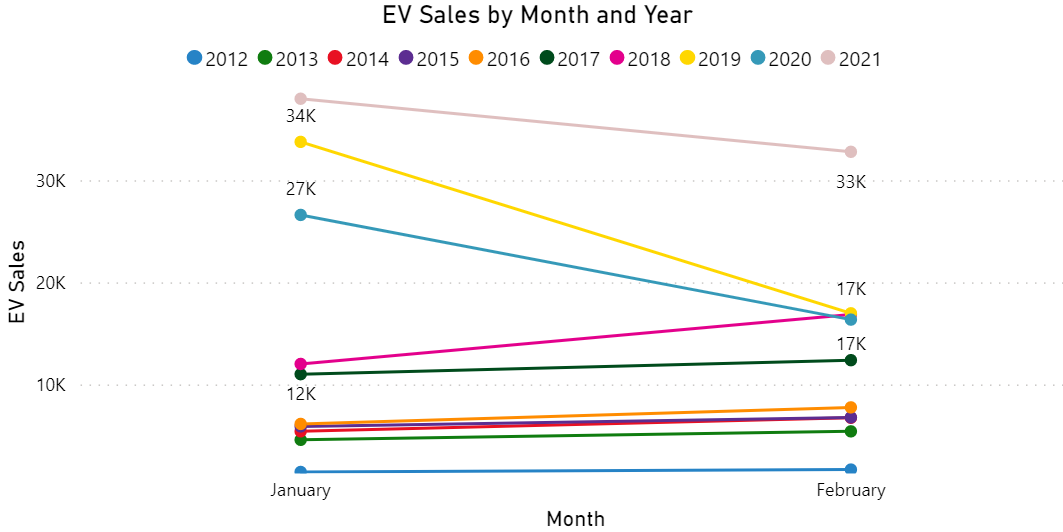 The U.S. EV market is off to a roaring start in 2021 with both January and February setting all-time records for those months. In February, EV sales were more than double the same month in 2020. More than 32,700 EVs were sold across the country in February, roughly 3.4 percent of all new light-duty vehicle sales for the month. Even without March sales data, January and February sales already exceed all sales from the first quarter of 2020 by nine percent.
Notably, Tesla only accounted for 51 percent of the monthly sales. The EV kingpin made up more than 60 percent of the U.S. EV market in 2020. Toyota and Chevrolet were the number two and three brands in February with Ford and Audi tied for fourth. Ford's Mustang Mach-E notched an impressive 1,328 sales in February, its best month so far and a massive jump from the 99 vehicles sold in January. Notably absent from the mix is Volkswagen, which began selling the ID.4 in March. The crossover is priced competitively at around $40,000 and is Volkswagen's first U.S. entry in an upcoming wave of new EV models. The table below shows sales by drivetrain from the top five automakers with the highest EV sales in January and February.
| | | | |
| --- | --- | --- | --- |
| Automaker | BEV Sales | PHEV Sales | ICE Sales |
| Tesla | 41,642 | N/A | – |
| Toyota | N/A | 5,031 | – |
| General Motors | 3,955 | N/A | – |
| Audi | 1,444 | 1,428 | – |
| Ford | 1,427 | 837 | – |
| Total (All Automakers) | 54,225 | 17,310 | 2,147,682 |
Early indications point to a potential turning point in the U.S. EV market with almost $30 billion in private investment commitments from automakers and manufacturers operating in the country announced in 2021 so far. Last week, GM announced yet another battery venture with LG Chem in Spring Hill, Tennessee that will bring $2.3 billion in investment and 1,300 jobs to the region. Also last week, LG Chem won $1.8 billion in a settlement with competitor SK Innovation, which will be allowed to continue its plans to build a $2.6 billion facility in Georgia. SK Innovation will supply batteries to both Ford and Volkswagen as they continue to roll out new EV models.
Increasing domestic battery manufacturing is one of the key developments driving EV market growth in the United States. A new study from Energy Innovation and the UC Berkeley Goldman School of Public Policy found that reaching 100 percent electric car, bus, and truck sales is technologically and economically attainable by 2035. The study estimates that it will take until 2050 before the entire stock of light-duty vehicles is electrified. Complete new vehicle sales electrification coupled with a transition to 90 percent renewable energy could lead to a 45 percent reduction in economy-wide greenhouse gas emissions by 2035 relative to 2005 levels. The report authors also project that two million new jobs will be created by the clean energy and transportation sector over this timeline.
Transportation electrification is accelerating around the globe and increasing EV adoption is positioned to deliver significant economic, public health, and climate benefits. However, the timing and magnitude of the benefits predicted in the 2035 report are contingent upon strong policy commitments to ensure job creation occurs in the United States and that complementary policies support the transition to clean sources of electricity. Without new policy support including nationwide EV sales targets and more aggressive fuel economy standards, the United States could forgo some of these benefits and lose out to global EV market leaders like the European Union and China. The Biden Administration has signaled strong federal support for EVs in the American Jobs Plan, including $174 billion in targeted federal funding for EV and EV charging deployment. The plan targets funding for medium- and heavy-duty EV deployment as well, which was just buoyed by the U.S. Department of Energy's announcement of $162 million program to support electric truck deployment. You can track this program and more on the Public Funding Awards Dashboard and follow automaker investment commitments and sales as they are reported on the Automakers Dashboard.
About the author: Conner Smith