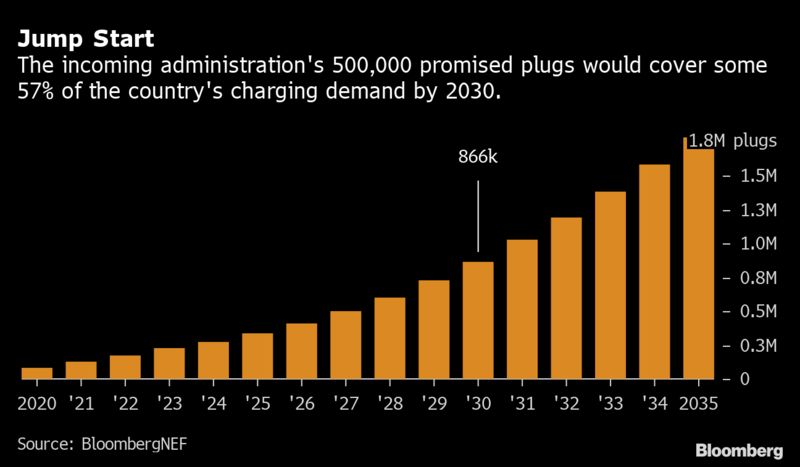 The new year could bring a dizzying array of policy activity designed to advance the EV market in the United States. In 2021, we expect to see states follow California's lead on a zero emission truck and bus rule and push forward with rules to implement the governor's executive order calling for 100 percent zero emission passenger vehicle goal by 2035. And, after a long wait, we anticipate serious activity in the nation's capital.
For much of the time since EVs were introduced to American consumers in late 2010, state policymakers led the way with supply and demand driven policies to accelerate market growth. With the voters' choice of Joe Biden for President and the recent election of two Democratic Senators in Georgia, the groundwork is being laid for substantive EV policy for the first time in several years. Congress will likely consider refreshed passenger vehicle incentives, which could provide a boost to Tesla and General Motors, both of which have reached the sales limit for the current tax incentive. The time is right to also consider expanding vehicle incentives to the burgeoning medium- and heavy-duty segments, as more models are expected from major manufacturers. Federal charging infrastructure investments that line up with Biden administration targets are on the table as well. From the Biden Administration, we also expect substantive action including updated vehicle emissions and fuel economy standards, awards from the Low Emission-No Emission program ($125 million was added to the program in last year's omnibus), and promotion of EVs through the bully pulpit. Federal activity could expand depending on the popularity of using EVs as a solution to the economic woes from COVID-19.
Although Washington is once again looking to lead, the states will likely continue to play an essential role in moving policy forward for transportation electrification, with California and the other ZEV states being a top focus. The trend to rapidly phase out gasoline passenger vehicles is gaining steam following Governor Newsom's executive order in September. New Jersey and Massachusetts followed suit with similar goals announced in October and January, respectively. Similarly, we will be keeping our eyes on states in California's ZEV program as they weigh adopting the Golden State's Advanced Clean Trucks rule which aims to achieve 100 percent zero emission medium- and heavy-duty vehicle sales by 2045. We already saw movement in 2020 by ZEV states (as well as non-ZEV states) on this front when 15 states and DC signed the Multi-State Zero Emission Medium- and Heavy-Duty Vehicle Initiative MOU which targeted 2050 for 100 percent sales of zero emission medium- and heavy-duty vehicles. We also expect continued activity in vehicle manufacturing states as they work to attract some of the more than $400 billion in investments that we track on EV Hub. Finally, it is likely that states will continue to leverage Volkswagen Settlement funds for EVs with well over half of states' funds remaining to be spent.
There's reason to be hopeful about transportation electrification in 2021. Public policy will continue be the lynch pin that drives market adoption, particularly in emerging segments like electric trucks. We expect a lot of policy to be crafted this year as the distribution of the COVID-19 vaccine ramps up and the country attempts to stimulate the economy. We'll be tracking it all on EV Hub and we encourage you to reach out to us with suggestions on how we can improve our policy tracking.
About the author: Nick Nigro