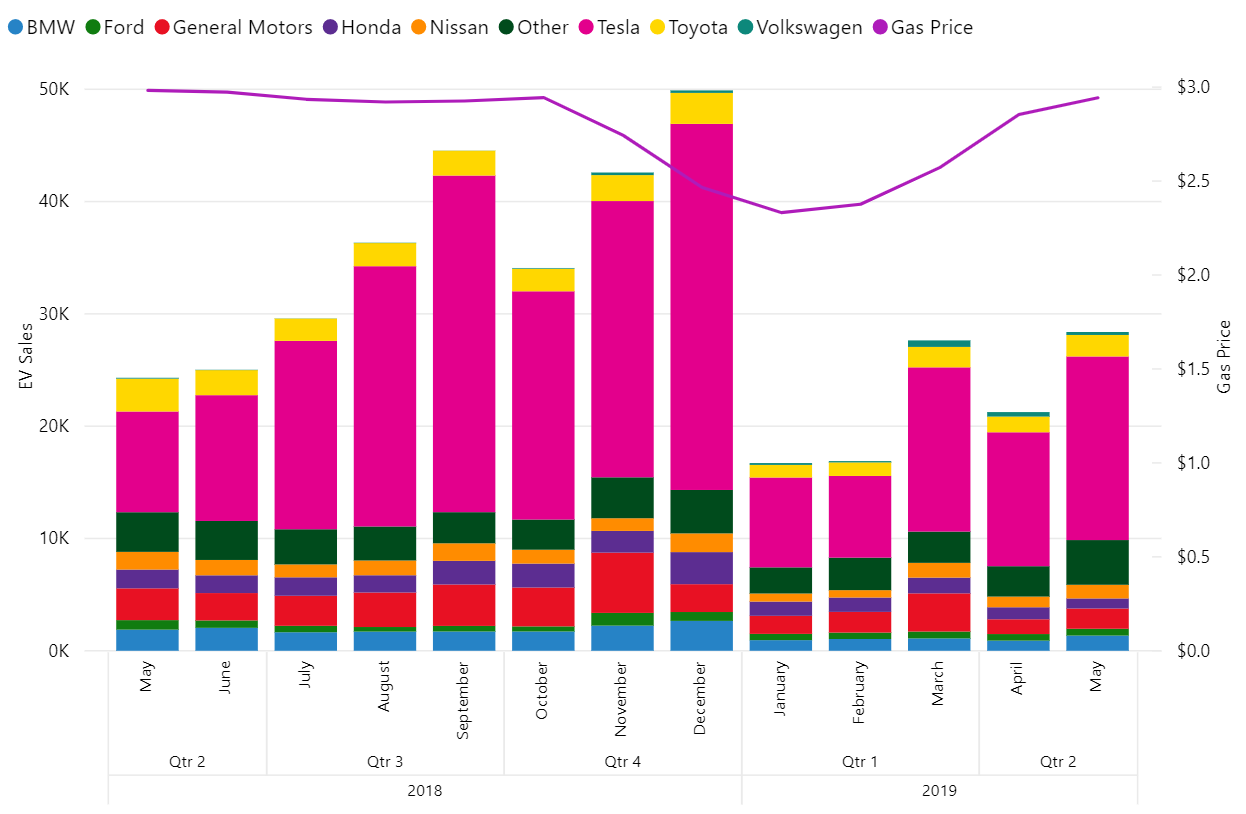 After a slow start to the year where first quarter growth slowed to 11 percent, the U.S. EV market posted stronger growth in May. EV sales were 16 percent higher than this time a year ago. This is double the year-over-year (YOY) growth seen in April, and the strongest since January.  
The new Audi E-tron enjoyed an exceptionally strong May for its first full month of deliveries. Audi sold 856 vehicles, making the E-tron the seventh highest selling EV on the market. Other models saw increasing sales in May as well. Amid a challenging year, Tesla Model 3 sales increased by 38 percent from 10,050 vehicles sold in April to 13,950 sold in May. Some point to a rising tide of competitors and a first quarter focus on international markets as possible explanations behind Tesla's slow sales.
Despite recovery across the market, growth is still far below the 80 percentYOY growth boom in 2018. New, cheaper all-electric models like the Hyundai Kona that have received considerable fanfare are still in limited production. Only 91 Konas were sold in May. The same is true for the Kia Niro EV, which saw a threefold increase in sales between April and May. The 119 vehicles sold last month falls far below the E-tron's May numbers.
Several barriers continue to constrain the growth of the EV market, and automakers are looking for ways to move the needle. In November 2018, Atlas helped facilitate a roundtable coinciding with the launch of the E-tron to discuss some of these issues. Automakers, utility commissioners and other public agencies, electric utilities, NGOs, and charging service providers were all represented at the meeting. A lack of fast charging deployment and undeveloped markets for vehicle grid integration services were deemed top priorities for the roundtable participants.
A lack of public fast charging also influences consumer behavior and contributes to range anxiety. A growing number of Americans are considering driving electric, but many still lack awareness of progress being made in the sector according to a recent survey from AAA. The report points to this lack of awareness as a possible explanation why EVs still only make up about two percent of the total U.S. auto market. Automakers like VW are taking the lead by investing billions in electrification programs despite low demand. The EV Hub Global Private Investment Dashboard is tracking almost $350 billion in EV and charging infrastructure investment. This will likely increase with major commitments from industry leaders like Toyota growing more aggressive. This will put pressure on U.S. automakers to step up at a time when less than 10 percent of global EV investment is planned for the United States.
About the author: Conner Smith