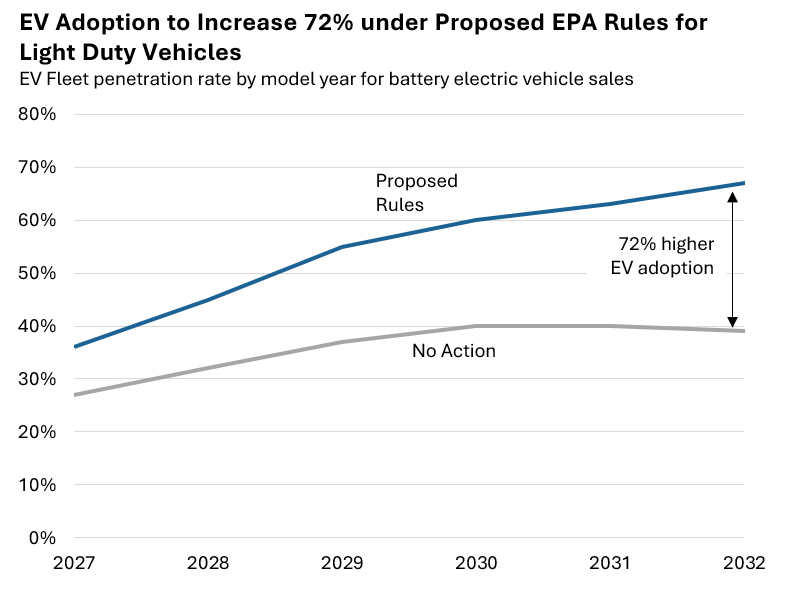 Last week, the Environmental Protection Agency (EPA) announced the tightest ever domestic tailpipe emissions standards for light, medium, and heavy-duty vehicles—building upon the federal government's significant investments to guarantee a carbon-neutral and clean transportation future.
If these standards take effect as written, the EPA projects that through 2055, approximately 10 billion tons of carbon dioxide (CO2) emissions would be avoided—equivalent to more than twice the total U.S. CO2 emissions in all of 2022. The standards would also reduce oil imports by approximately 20 billion barrels, which is about the same as what the U.S. consumed for gasoline in the last six years. Lastly, these standards would generate profound benefits to environmental justice communities. Approximately 72 million people live near truck freight routes in America, and these standards would allow for cleaner air to flow to these communities and mitigate adverse health effects. However, these rules only affect new vehicles, and there's still a long way to go before these communities can realize all of the benefits of zero-emission vehicles.
The proposed standards look to be transformative for the uptake of EVs. Under these proposed rules, EV adoption is projected to increase 72 percent for light-duty vehicles, versus a "No Action" route (i.e., the absence of regulatory emissions standards). The "No Action" route is based on a technical assessment that revealed "increasingly favorable consumer sentiment towards BEVs, decreasing costs, and a broadening number of BEV product offerings."
Below is a synopsis of what the proposed standards aim to achieve.
Light- and Medium-Duty Vehicle Standards
The Multi-Pollutant Emissions Standards for Model Years 2027 and Later Light-Duty and Medium-Duty Vehicles builds upon the agency's existing standards for MYs 2023 through 2026. The proposed program sets standards on both criteria air pollutants and greenhouse gas (GHG) emissions. Under these new rules, the EPA projects that "EVs could account for 67% of new light-duty vehicle sales and 46% of new medium-duty vehicle sales by 2032."
For light-duty vehicles, the rules aim for an industry-wide average target of 82 grams of CO2 per mile traveled by MY 2032, creating a 56 percent reduction in GHG emissions compared to existing MY 2026 standards. For medium duty vehicles, the standards set a target of 275 grams of CO2 per mile for vans and pickups combined—representing a 44 percent reduction of GHG emissions compared to existing MY 2026 standards. The proposal also sets a particulate matter (PM) standard of 0.5 mg/mi; the EPA projects that this standard will reduce tailpipe emissions from gasoline vehicles by over 95 percent from current levels.
According to the EPA, this proposal is expected to "avoid 7.3 billion tons of CO2 emissions through 2055," and provide up to $1.6 trillion in net benefits.
Heavy-Duty Vehicle Standards
Next, the EPA's second set of proposed emissions standards pertain to heavy-duty vehicles and complement the existing standards applicable under the EPA's HD Phase 2 Greenhouse Gas Program.
In the proposed Phase 3 program, the standards apply to heavy-duty vocational vehicles (delivery trucks, refuse haulers, transit and school buses, etc.) and tractors (day cabs and sleeper cabs). Under the Phase 3 program, the Agency sets stringent GHG standards beginning in MY 2027, measured in grams per ton-mile, across a variety of heavy-duty vehicle types. The Agency projects that this proposal can create up to $320 billion in net benefits and avoid up to 1.8 billion tons of CO2 through 2055.
Through these new standards, the Agency estimates that nearly "50 percent of new vocational vehicles and 25 to 35 percent of new tractors in MY 2032 would be ZEVs."
Moreover, EPA's proposed rules are technology-neutral, allowing manufacturers to meet performance-based standards that are most suitable for their vehicle fleets. However, we can say with certainty that there are two practical technology options in our current state – battery electric vehicles (BEVs) and fuel cell electric vehicles (FCEVs) – and BEVs have built up a sizeable lead.
What's next?
The EPA plans to hold a virtual public hearing for both proposed rules (May 2 and 3, 2023 for the heavy-duty standards, and May 9 and 10, 2023 for the light-and medium-duty standards) and a 60-day comment period.
About the author: Moe Khatib