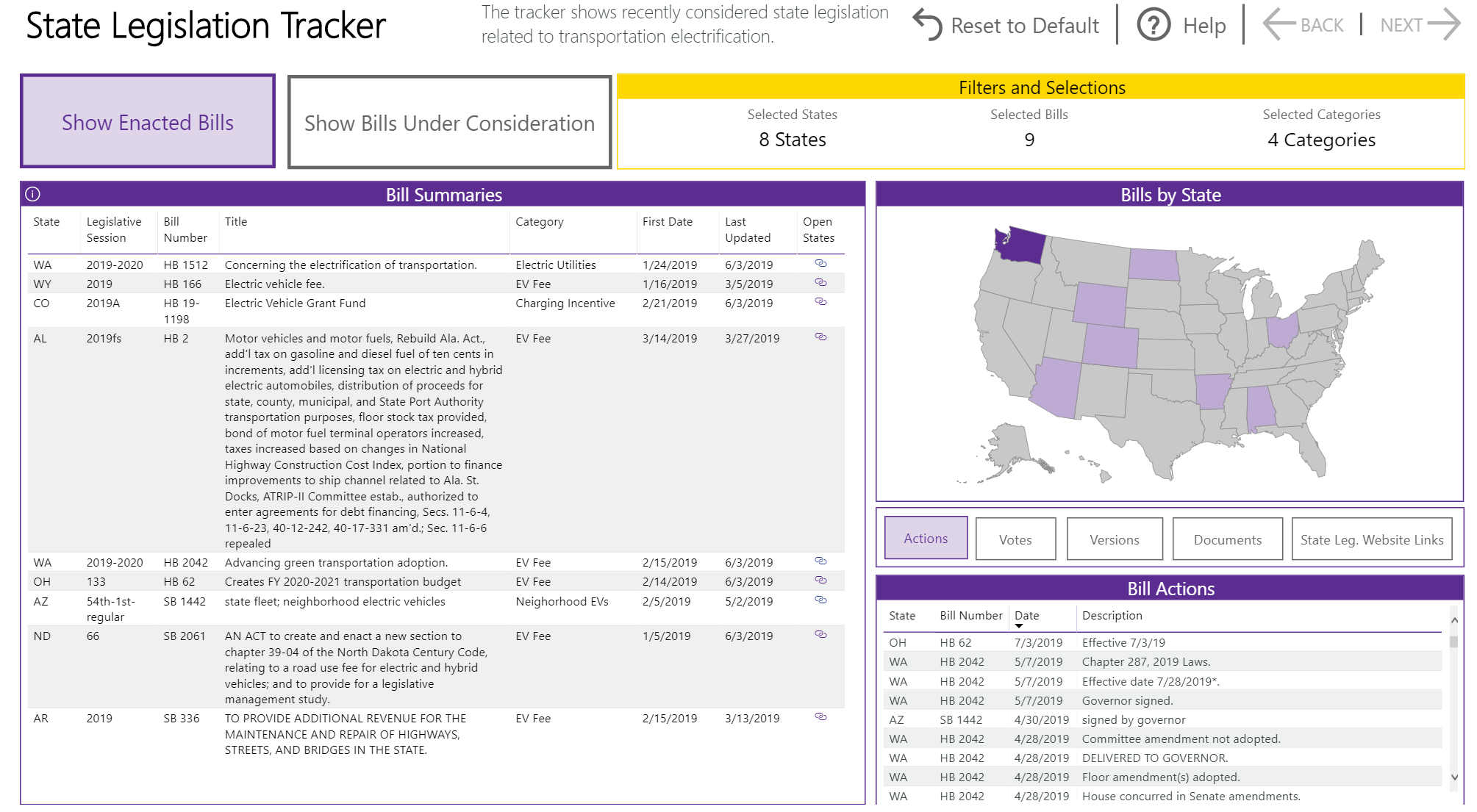 Colorado took its EV leadership to the next level last week, enacting seven new bills that encourage clean energy and four that address clean transportation goals.  The new laws require electric utilities to account for the social cost of carbon and take action to reduce emissions in order to accelerate the transition to 100 percent renewable energy by 2040. These new laws also extend the state's valuable vehicle tax credit and allow utilities to invest in charging stations.
In a year dominated by EV fees, Colorado stands out as a leader in enacting policy to advance transportation electrification. EV fees have either been passed or were introduced in 23 state legislatures in 2019. However, at least 29 bills across 14 states encouraging transportation electrification have been introduced or passed in 2019 according to the EV Hub State Legislation Tracker. Five of these belong to Colorado, including the four bills that were just enacted. The state is also considering adopting tougher emissions standards by joining California's Zero Emissions Vehicle Program.
Beyond adopting new legislation, Colorado is backing up clean transportation goals by allocating significant portions of their public funding to electric buses and trucks. In April, the state announced almost $14 million for electric transit buses in VW Settlement Awards. This represents 25 percent of the nationwide electric transit bus funding allocated so far through the Settlement. After a new executive order was issued in January, the state required that all remaining eligible funds from the VW Settlement be used exclusively for electrification projects.
While many states are seeking to build out renewable energy capacity and EV infrastructure simultaneously,  Colorado is one of few states to approach this aggressively. According to the EV Hub Public Awards Dashboard, only six of the 45 states receiving federal Low or No Emission Vehicle Program funding have specified that electric buses will utilize renewable generation for charging. Oregon and Hawaii are also taking advantage of the complementary nature of EVs and renewable energy. Last month, Portland's TriMet announced it would begin operating the nation's first wind-powered electric transit buses. In March, Hawaiian officials worked with Hawaiian Electric to approve reduced off-peak charging ratesfor electric buses to complement state plans to invest all VW Settlement awards in transportation electrification.
States like Colorado, Oregon, and Hawaii are seeking to maximize the co-benefits of EVs and renewable energy through a combination of new legislation, ambitious policy targets, and funding to build dynamic clean transportation programs. These states are already among the top ten in EV deployment and are aiming to deploy the cleanest vehicles in the country.
About the author: Conner Smith