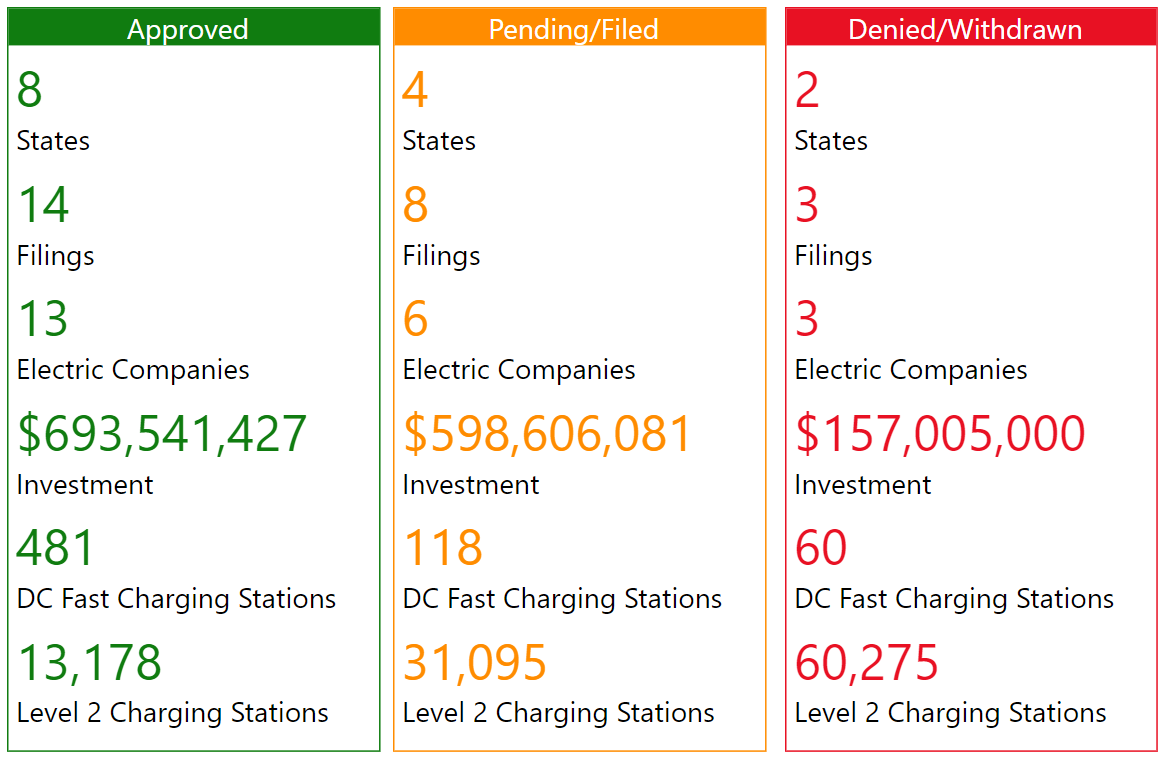 Lack of access to charging infrastructure is a primary barrier to EV adoption. Disadvantaged communities (DACs) typically face a harder time accessing charging than other groups, and electric utilities are well-positioned to bring EVs to communities that might not otherwise have charging access through direct investments in infrastructure.
The total amount of electric utility investment in DACs remains unclear. The EV Hub Utility Filings Dashboard tracks use targets for utilities and includes nearly $700 million in approved programs that have an equity focus, almost 90 percent of which are occurring in California. However, not all of the money in those programs is necessarily allocated to DACs. With almost $600 million in additional pending investment with some focus on DACs, utilities have the opportunity to significantly increase their role in supporting the deployment of EV charging in these communities.
California's three largest utilities have reported preliminary success with programs approved in 2016. As of April 2019, 50 percent of all charging ports installed under Southern California Edison's Charge Ready program went into DACs. San Diego Gas & Electric celebrated in late 2018 that 32 percent of customers who signed site agreements under the Power Your Drive program were based within DACs – far exceeding the initial 10 percent target. Through the third quarter of 2018, Pacific Gas & Electric had deployed 27 percent of total ports in DACs.
Utility programs outside California have yielded mixed results. 14 utilities across 11 states target DACs with their transportation electrification investment. The Washington D.C. Public Service Commission rejected two of Pepco's charging programs that would allocate 20 percent of charging stations to DACs, arguing that utility programs may deter private investment in the sector. Pepco asserts that private competition is not enough on its own, arguing that the competitive market has not served DACs effectively to date. Duke Energy included a 10 percent carve out of charging stations for DACs in their $8 million pilot in Florida. However, the company has not made specific allocations for DACs in their recent $76 million proposal in North Carolina due to low utilization in their Florida pilot.
Charging infrastructure access is only one aspect of the transportation equity issue. Electric utilities have sought input from environmental justice groups, which consider the electrification of trucks and buses that serve DACs a core focus for equity efforts. According to the Utility Filings Dashboard, 16 utilities in 14 states have been approved to invest more than $590 million in programs which include some focus on bus and truck electrification.
There is no one solution to increasing transportation equity, and there is no single player. The EV Hub's recent data story on this issue shares some of these data and includes further insights into public funding and policies that support electric utility equity programs. Over the next several months, we will be enhancing the way we collect and present data regarding transportation equity in our Utility Filings Dashboard to more accurately track electric utility engagement on this issue.
About the author: Conner Smith