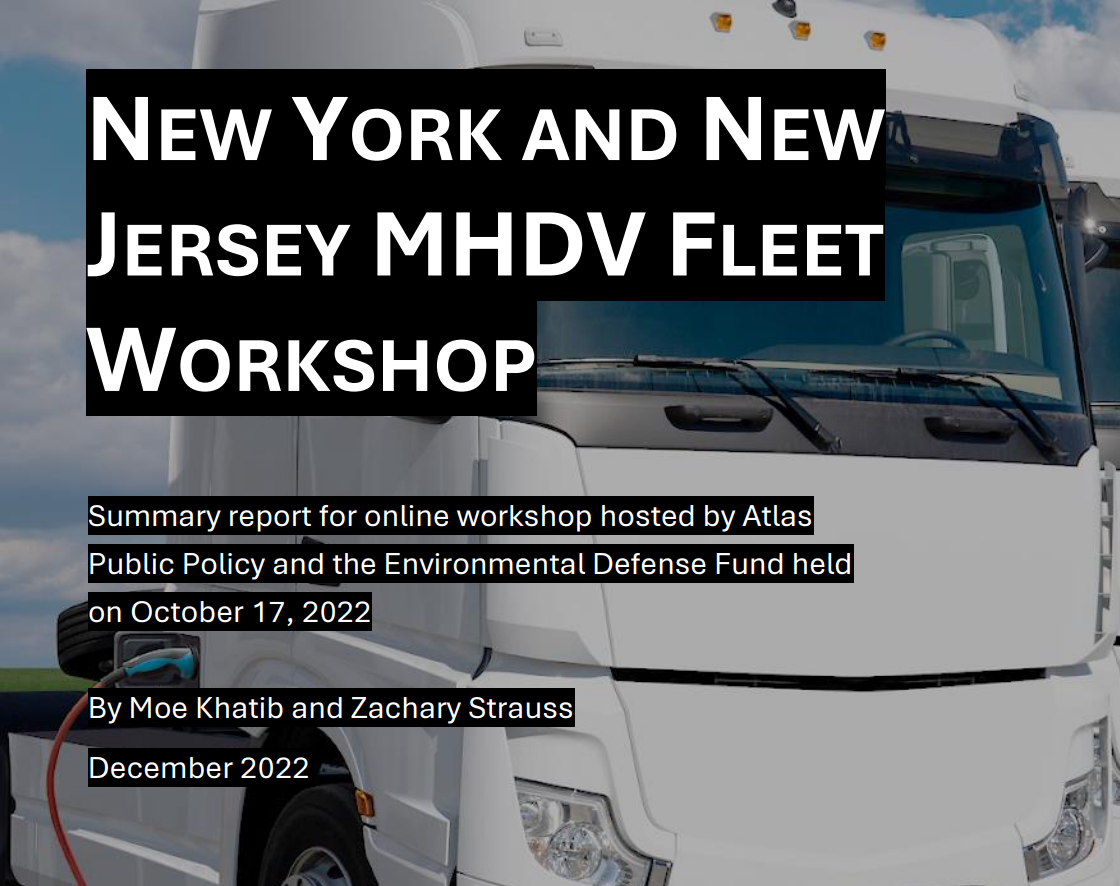 Last week, my colleague Zachary Strauss and I released a report on barriers and opportunities to medium- and heavy-duty (MHDV) fleet electrification in New York and New Jersey. The report drew from the findings from a workshop we held on Monday, October 17, 2022, hosted in tandem with Environmental Defense Fund (EDF). This workshop featured sixteen speakers representing private and public fleet operators and service providers of all sizes.
EDF and Atlas convened this public workshop to create a space for fleets and other stakeholders to discuss their MHDV charging infrastructure needs, current barriers to accessing incentive programs, and the support they may require from utilities in New York and New Jersey to electrify. Speakers discussed these key issues over the course of three panel conversations:
The road to electrification
The relationship between fleets and utilities
The cost to electrify
While open to the public, this workshop sought to inform and educate representatives from utility commissions and state regulatory staff regarding their role in advancing MHDV electrification. In total, more than 200 people tuned in to learn and gather feedback from featured fleet operators.
Although this workshop centered around utility support for MHDV fleet electrification in New York and New Jersey, the learnings from this workshop can inform utility regulators and support fleet operators across the country.
See below for the workshop's key findings:
Fleets are interested in deploying more electric vehicles in New Jersey and New York, but the lack of adequate utility support is a major barrier. This is especially the case for national fleets that are able to focus their deployments in states with robust utility programs.
Government and utility incentive programs that reduce the cost of both the infrastructure and electricity rates are crucial to helping fleets electrify. Utility programs will be critical to enabling fleets to justify the upfront costs of electrification in the near term.
Operational challenges for MHDVs include: insufficient onsite electrical capacity and physical space to serve fleet charging needs, technological readiness for more challenging vehicle use cases (such as plowing), and limited charging windows for vehicles that are operated for multiple shifts a day.
Long utility interconnection lead times, often upward of two years, pose a major obstacle to fleet electrification. Long wait times often make it difficult for fleet operators to plan ahead and to pair vehicle purchases with infrastructure deployment. Operators do not want to purchase vehicles if they do not know when power can be supplied to them, which introduces planning challenges into the vehicle procurement process.
Early, consistent, and frequent communication between fleets and utilities is essential to keeping reasonable timelines and achieving overall project success. Fleets expressed that the best electrification experiences stem from regular standing engagements with designated utility staff.
Fleet operators are new to vehicle electrification and are not subject matter experts. Likewise, many fleets currently lack the capacity to regularly engage with utilities or manage infrastructure deployment. To move through the electrification process with ease, fleets will require additional technical assistance from utilities, such as through fleet advisory programs.
A number of constraints can prevent or deter fleet operators from taking advantage of utility make-ready incentive programs. For example, fleets repeatedly identified the need for utilities to assign a single point of contact or project management team to help them effectively access available incentive funds. In addition, fleet operators highlighted narrow eligibility requirements as a barrier to accessing available funding such as voucher program or depot site owner requirements.
Fleet operators would like greater transparency from utilities regarding available grid capacity, as well as planned site upgrades and their associated costs. This information is important for fleets as they look to make key site selection and infrastructure deployment decisions. If provided this information, fleets could better discern whether it is economically feasible to electrify a certain facility or how quickly they could deploy onsite charging.
Fleets currently employ distributed energy resources (DERs) and managed charging and view these as critical tools for minimizing charging system costs. Fleets expressed that they would like to see utilities integrate DERs into charging infrastructure incentive programs.
About the author: Moe Khatib