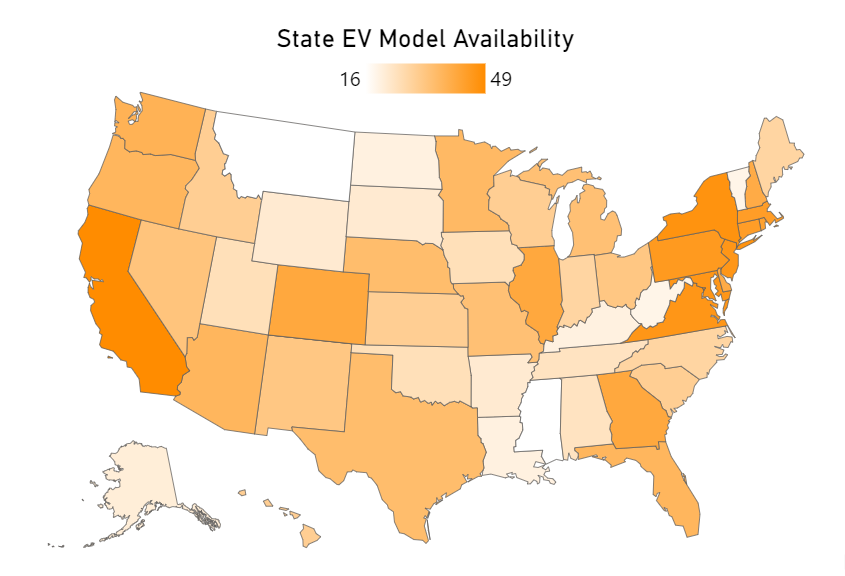 The U.S. passenger EV market notched all-time record monthly sales in the first two months of 2021 as the EV hub awaits data from March. U.S. passenger EV sales doubled in February compared to 2020, bringing the quarterly total even without the March data above that from the first quarter of last year. We are anticipating strong March sales, since last March saw the beginning of massive production shutdowns as a result of the pandemic. The trend of monthly EV sales growth is likely to continue in the second quarter, as production shutdowns and stay at home orders were in full swing in April and May of last year.
While Tesla is still king with 78 percent of January and February BEV sales, the entry of new models from Ford and Volkswagen are contributing to an increasingly robust offering of vehicles on the market. As it continues to rack in high praise, Ford's Mustang Mach-E saw a 13-fold increase in monthly sales between January and February. Volkswagen's flagship EV, the ID.4, hit the market in March.
Automakers are adding to growing EV fever with several high-profile model announcements planned in the coming weeks. President Biden will visit Ford's new EV factory in Dearborn, Michigan as the automaker gears up to unveil the Ford F-150 Lightning and the Administration pushes the American Jobs Plan. The Lightning will herald the first official launch of an electric pickup by one of the Detroit Three American automakers when it hits the market in the first quarter of 2022. Rivian, which has been collaborating with Ford on shared EV platforms, is set to bring America's first electric pickup to market this Summer. EV manufacturers continue to vie for the spotlight to promote their upcoming vehicle offerings. While Elon Musk hosted last week's Saturday Night Live on May 8th, Lucid, Audi, Ford, and Volkswagen all ran ads promoting their new EVs.
EV makers overseas are also ramping up. Chinese upstarts Xpeng and Nio are eyeing expansion with the former seeing a seven-fold increase in domestic sales in the first quarter and the latter seeking to enter the European market later this year. Asian automakers are also looking to expand their EV presence in the United States. On May 13, Hyundai announced that at least $7.4 billion of its total planned $87 billion global EV investment will go towards facilities in the United States. Subaru, which has seen a steady increase in U.S. market share over the last decade, unveiled its first all-electric model planned for 2022 on May 12.
More than 51 models were offered for sale in the first quarter of 2021 and 23 more are expected to hit the market before the end of the year. It is likely that many of these will be produced in the United States with a growing amount of manufacturing investment and employment planned for domestic facilities. You can track all announcements, upcoming models, and other notable updates on the Automakers Dashboard.
About the author: Conner Smith