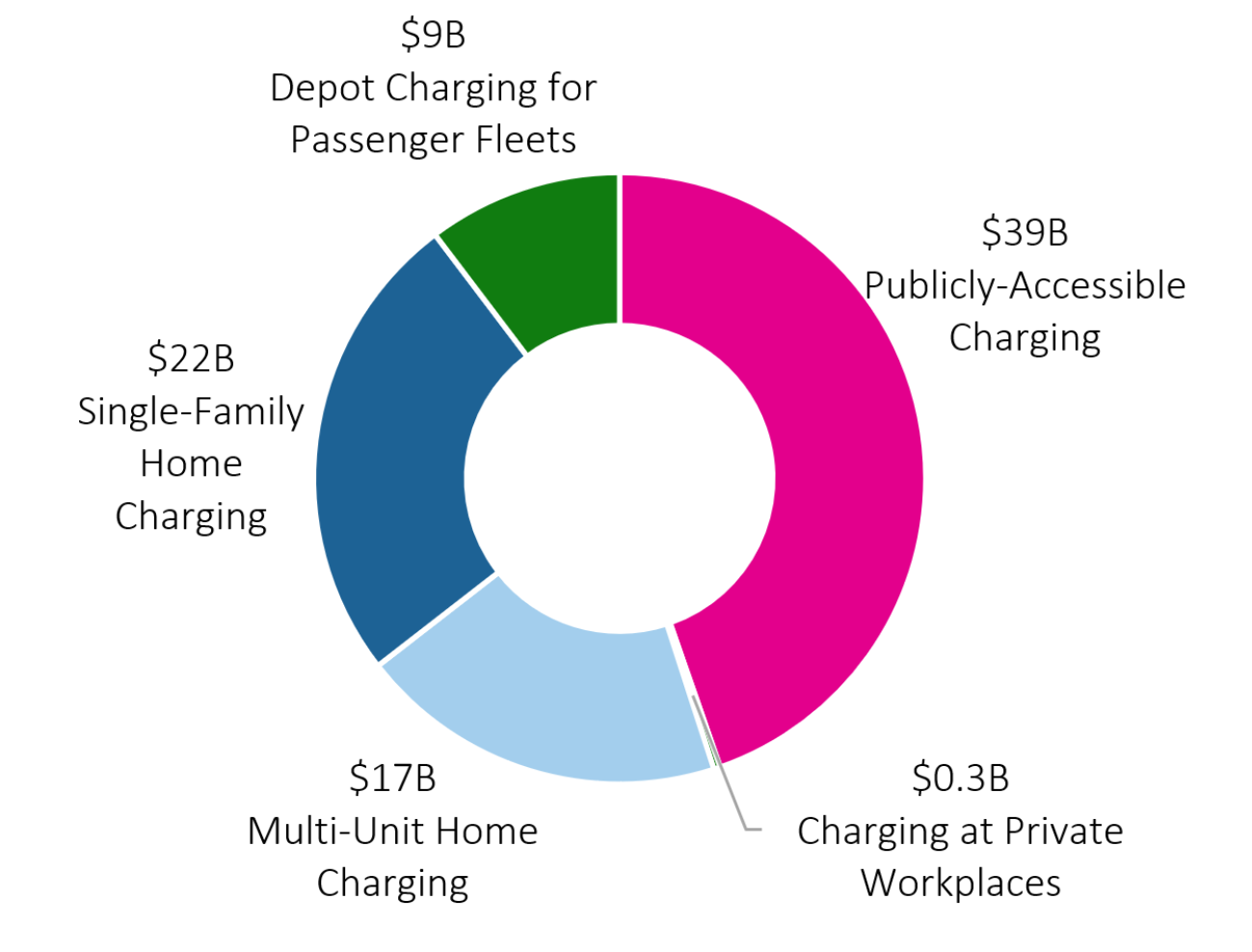 The need to expand EV charging has come into focus as the federal government turns its sights towards transportation electrification as a component of infrastructure spending. President Biden's American Jobs Plan encapsulates the Administration's goal to deploy 500,000 charging ports throughout the next decade with funding up to $15 billion. The overall plan includes $174 billion for transportation electrification initiatives, also including point-of-sale rebates for passenger EVs and funding for school and transit bus electrification.
These plans are ambitious given the limited amount of targeted federal support for EV charging since the American Recovery and Reinvestment Act (ARRA) of 2009. The ARRA dedicated $300 million to clean transportation projects administered by Clean Cities organizations that included the deployment of EVs and EV charging. ChargePoint, now the nation's leading charging service provider accounting for 38 percent of all public EV charging infrastructure (primarily Level 2), was awarded $15 million of the ARRA funding and used it to deploy 4,600 charging ports through June 2013.
New investment under the American Jobs Plan is needed, however it likely won't be enough to support the number of charging ports required to bring about complete electrification of passenger vehicle travel in the United States. New research from Atlas shows that 100 percent electrification of passenger vehicles will require at least $87 billion in investment for EV charging through 2030. This includes approximately $39 billion to support 495,000 public and workplace charging ports, almost exactly the 500,000-port goal of the American Jobs Plan. The remaining $48 billion is split across home and fleet charging with roughly $17 billion for charging at multi-unit dwellings, $22 billion for single-family home charging, and $9 billion for light-duty vehicle fleet charging at depot facilities.
Meeting these targets would result in a five-fold expansion of the current EV charging network in the United States. Out of 111,700 charging ports installed through March 2021, roughly 93,800 are Level 2 and 17,900 are DC fast charging ports. Almost 10,000 of the nation's charging ports belong to the Tesla network which is exclusively available to Tesla vehicles. While yearly EV charging station deployment expanded by 180 percent in 2020 compared to the number of stations reported as installed in 2019, a significant acceleration in non-exclusive DC fast charging will be needed to facilitate rapid EV adoption.
The compounding effect of investment in charging deployment form a variety of sources has helped drive growth in the EV charging market. Sources of funding like the VW Settlement and state-based programs have led to more than $700 million in government investment in primarily public charging. Electric utilities have been approved to invest $2.6 billion in charging infrastructure investment since 2012 which could support up to 222,000 Level 2 and 6,000 DC fast charging ports across 30 states with 75 percent designated for California and New York. More than $1 billion of utility EV charging investment was approved in 2020 alone. On the private investment side, charging service providers have committed more than $3.7 billion to support EV charging deployment in the United States.
Despite progress, this combined $7 billion falls far short of the $87 billion need estimated by Atlas. Federal funding will be a welcome contribution to this funding gap, and while the $15 billion pledged by the Biden Administration would go a long way towards ensuring a robust charging network, it may still not be sufficient. You can track charging deployment progress on the EV Charging Deployment Dashboard and read the full findings of the Atlas analysis here.
About the author: Conner Smith