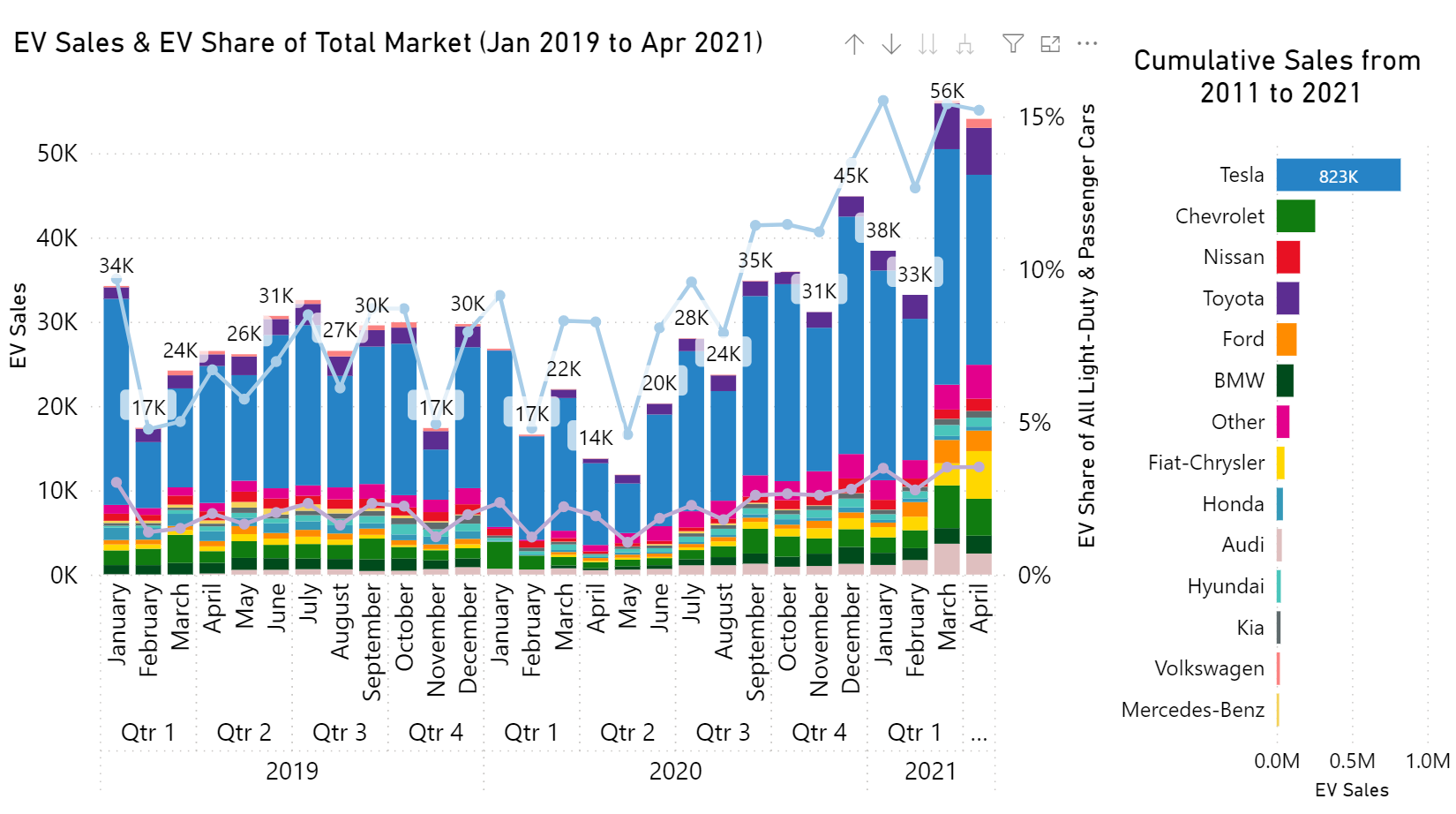 Following the record for quarterly EV sales set in Q1, Q2 is off to a hot start, with April sales up nearly 300 percent year-over-year. The 54,077 electric vehicles sold in April make it the all-time second highest month for U.S. passenger EV sales, falling just short of the 56,257-mark set in March. With back-to-back record months, 2021 is emerging as a breakout year for EVs, as we predicted in January. Through April, EV sales in 2021 were 130 percent higher than last year and exceeded 2019 sales for the same months by 75 percent.
Fueled by a healthy market, manufacturers are doubling down on EV investment. In May, Ford boosted its planned spending on EVs from $22 billion to $30 billion and announced plans to take its Lincoln luxury brand lineup electric. Not to be outdone, rival General Motors raised its investment in electric and autonomous vehicles up to $35 billion from the $27 billion it had announced late last year. General Motors beat out Ford in April, capturing eight percent of the market compared to 4.5 percent for Ford. The Chevy Bolt and Mustang Mach-E were the two bestselling non-Tesla BEVs.
Volkswagen and its sub-brands saw continued growth in April, with Volkswagen's ID.4 selling just over 1,000 units in its second month on the market, three times as many as it sold in its first month. Volkswagen Group's luxury offerings, the Porsche Taycan and Audi e-tron, also sold over 1,000 units each in April, allowing Volkswagen Group to claim the third, fifth, and sixth bestselling non-Tesla BEVs for the month. In March, Volkswagen announced a significant expansion of its battery manufacturing capacity to keep up with growing demand.
A rebounding plug-in hybrid market led by Stellantis (formerly Fiat-Chrysler) and Toyota accounted for nearly a third of the month's EV sales with 17,595 units. Stellantis's new Jeep Wrangler 4xe notched over 3,000 sales in its first month on the market, taking the number two spot for plug-in hybrid models and helping Stellantis surpass Toyota, which had led the plug-in hybrid market for twenty-four straight months. While all-electric sales were down 13 percent from March, plug-in hybrid sales rose by nearly 30 percent.
Tesla continues to lead the all-electric market with 22,500 sales in April but saw its market share slip to 42 percent, down from 54 percent in March. Some contraction was expected as Tesla halted production of the Model S and Model X earlier this year due to a parts shortage. Both models had their lowest selling month on record, selling just 150 units between them in April. Tesla's year-over-year sales were still up by over 18 percent, driven by strong sales from the Model Y and Model 3. Deliveries of the Model S resumed in June with the revamped Model S Plaid, but volume production is not expected to return until Q3.
With 2021's strong start, the United States is rapidly approaching two million total EV sales. At the current rate, the United States will reach two million EVs sold in June, just two and a half years after reaching one million EVs sold.
Track all this information on the EV Hub Automakers Dashboard.
About the author: Spencer Burget