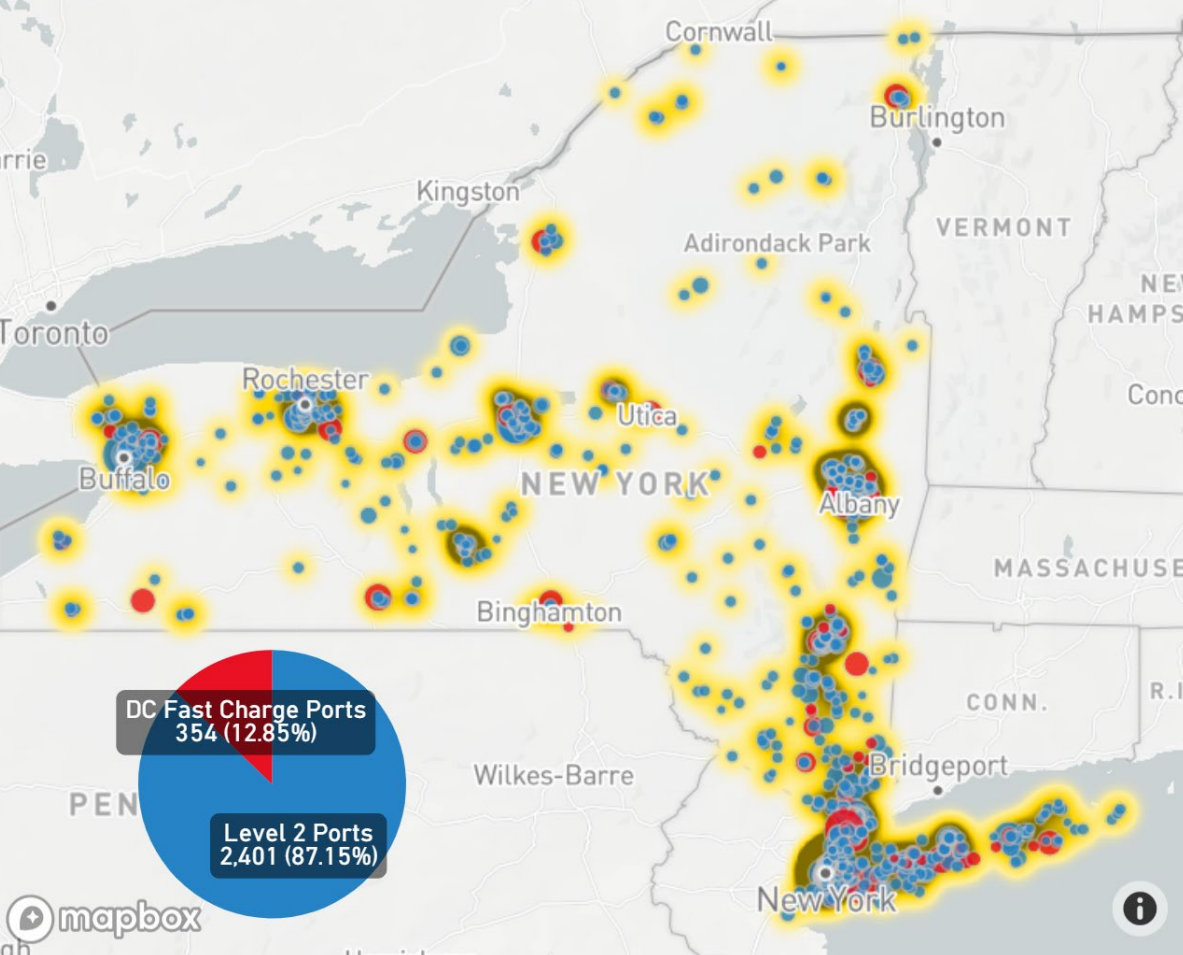 Several state agencies, electric utilities, and other organizations in New York are working to accelerate transportation electrification throughout the state. In collaboration with the New York State Energy Research and Development Authority (NYSERDA), Atlas has published a new report assessing the business case for hosting Level 2 charging stations in New York. In addition to concluding that user fees and station use of at least one session per day are essential to cover costs, the report found that stations located at workplaces had the highest utilization and that public funding significantly increased station profitability.
Drawing on real-world charging use and cost data from 2013 through 2018, the report assessed scenarios that varied the revenue source and amount of charging use for stations at a range of locations to determine the impact of different characteristics on profitability. The analysis relied on data provided by NYSERDA's initial Level 2 incentive program for 185 charging stations at 136 sites, more than 70 percent of which offered free charging to EV drivers. Only 38 percent of these stations were fully accessible to the public and the remainder were located at workplaces, parking garages, university campuses and other locations with more limited access. Charging station use grew 30 percent on average over the course of the study for stations of the same location type.
Increasing charging station use over this time period coincide with increasing public investment in transportation electrification throughout the state. NYSERDA administers the Charge NY initiative, which has a goal of deploying 800,000 zero emission vehicles by 2025 and 10,000 EV charging stations by 2021. The initiative is backed by considerable public funding and programs related to Charge NY are worth over $300 million. This makes New York second only to California in terms of states with the highest public funding investment for transportation electrification. Out of all 50 states and Washington D.C., New York ranks 31st in terms of DC fast charging stations per person and 18th in terms of Level 2 charging stations per person. The state ranks 17th overall in terms of EVs per person.
Electric utility funding is also a core component of New York's transportation electrification efforts. To date, six New York electric utilities have been approved to invest nearly $43 million in programs supporting more than 1,070 DC fast charging stations. California, Massachusetts, and Maryland are the only states to have higher utility investment approval compared to New York and pending investment could bring in another $30 million if approved.
Public and utility funding increases the profitability of charging stations. The report found that the rebates offered by NYSERDA, ranging between $5,000 and $20,000 per site, had a significant impact on profitability. When these rebates were removed, the proportion of stations reaching profitability declined from 56 percent to 36 percent. Despite consistent growth in charging station use, stations with less than one charging session per day struggled to reach profitability in the scenario analysis. Overall, 41 percent of all charging station scenarios studied achieved profitability.
The report found that station profitability can be significantly increased when the additional time spent by EV drivers at retail locations while charging is considered. A majority of these station types saw profitability increase by more than 100 percent when accounting for the additional revenue EV drivers bring into retail locations that host charging stations. Station hosts in New York have a range of reasons to invest in the charging network as public and utility investment looks positioned to increase as the state expands its commitments to transportation electrification.
About the author: Conner Smith