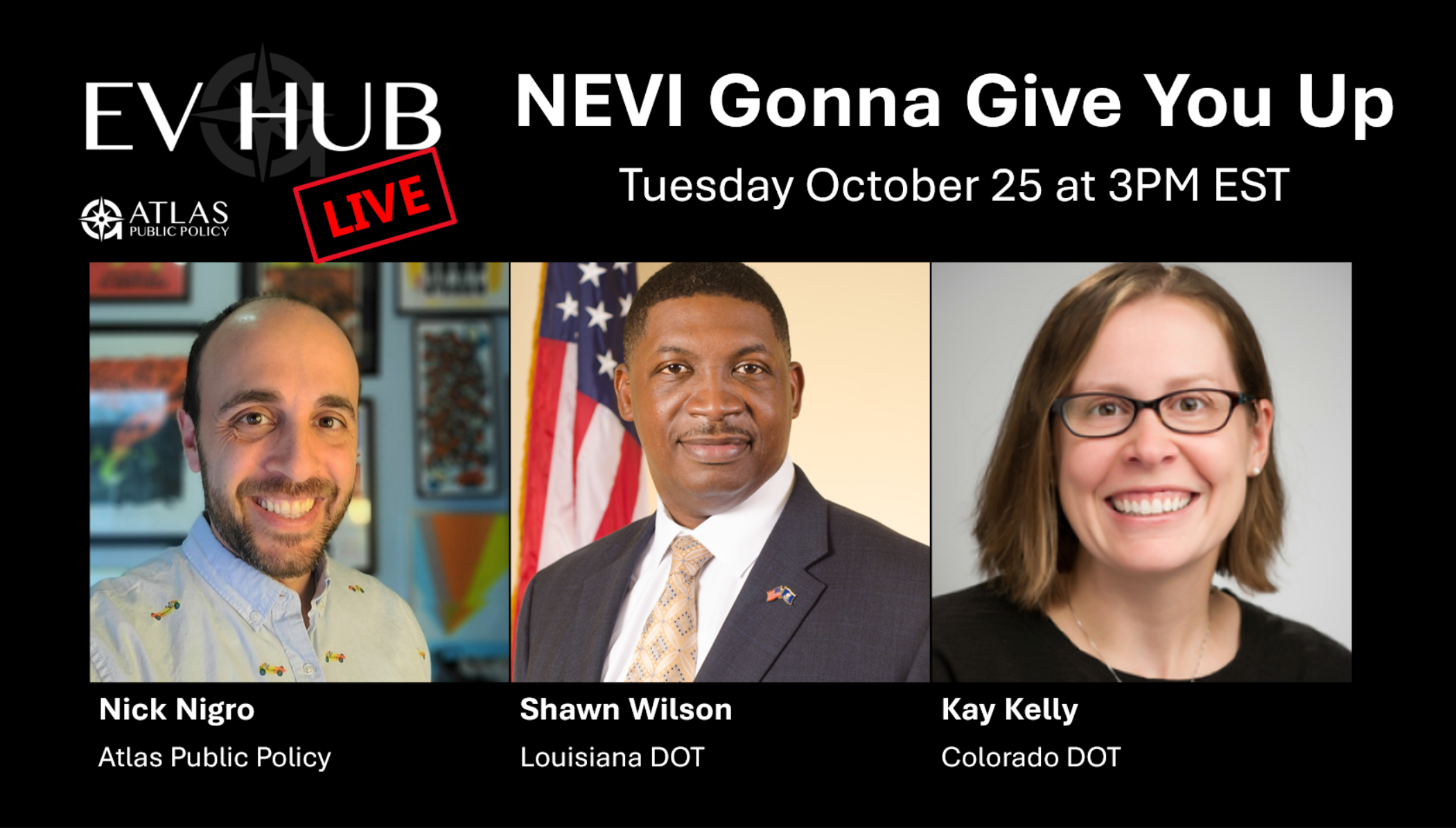 Last week, Atlas founder Nick Nigro sat down with Dr. Shawn Wilson, Secretary, Louisiana Department of Transportation and Development (DOTD) and Kay Kelly, Chief, Office of Innovative Mobility, Colorado Department of Transportation (CDOT) to discuss the next steps for Colorado and Louisiana in implementing National Electric Vehicle Infrastructure (NEVI) funding. Here is what we learned:
What's next for NEVI implementation in Colorado and Louisiana?
Now that plans are approved in Colorado and Louisiana, both states are quickly moving towards their initial funding rounds and implementing grant programs. In Louisiana, Dr. Shawn Wilson shared that the Department is having final discussions about developing a competitive grant program that will allow for a phased approach to build out an electric vehicle (EV) charging network in the state. According to Wilson, the Department intends to roll out applications by the end of this year and begin offering awards in Q1 or Q2 of 2023.
Furthermore, Colorado is following a similar timeline. According to Kay Kelly, the state intends to release requests for applications in early 2023 and adopt a regular release schedule moving forward, with a few openings of NEVI funding rounds each year. Currently, CDOT is continuing its collaboration with other state agencies, like the Colorado Energy Office (CEO), to integrate the federal funding into existing state EV grant programs to "maintain consistency and expand funding to new grantees."
How is Colorado mapping and defining equity in addition to Justice40?
In addition to Justice40 requirements, Colorado has established a wide array of equity initiatives to factor into the state's build out of an EV charging network. The first one is the Colorado EnviroScreen developed by the Colorado Department of Public Health and Environment (CDPHE), an interactive environmental justice mapping tool that identifies environmental burdens in disproportionately impacted communities (DICs). Moreover, Colorado's Senate Bill 21-260 also establishes a definition of DICs to be prioritized for transportation electrification investments. Lastly, the Department will catalyze the CEO's statewide EV Equity Study to support equitable outcomes in EV programs, including NEVI.
According to Kelly, all of these will factor into how Colorado will scope grant proposals, select different projects, implement projects, and ensure compliance with all equity requirements.  
How is Louisiana identifying and measuring benefits for disadvantaged communities?
Louisiana is approaching equitable charging deployment at a macro-level, from looking at rural communities to urban communities and understanding the different dynamics of Louisiana's population. The Department takes the position that there are rural areas that need more of an investment in infrastructure upgrades to accommodate EV charging, but in terms of designating funding, sites that are less complex will be prioritized to identify best practices. The Department also sees value in expediting the secondary market of EVs and charging infrastructure in underserved communities, which includes ensuring diverse representatives from those installing and maintaining the infrastructure.
What about NEVI funding for medium and heavy-duty vehicles in Colorado and Louisiana?
Louisiana and Colorado are prioritizing initial funding rounds for the passenger vehicle market. Both states suggested the future funding rounds may be allocated to medium and heavy-duty vehicles, in tandem with other state and federal funding pots.
Will Louisiana and Colorado be engaging with utilities to support NEVI implementation?
Yes. According to CDOT, utilities must be in the conversation, and the state agencies currently maintain close relationships to support EV programs. Additionally, Louisiana DOTD sees the value in working with the utilities for electric vehicle infrastructure and is beginning to form relationships. 
Much more important ground was covered regarding next steps for NEVI implementation in Louisiana and Colorado. Watch the full episode here.
About the author: Moe Khatib