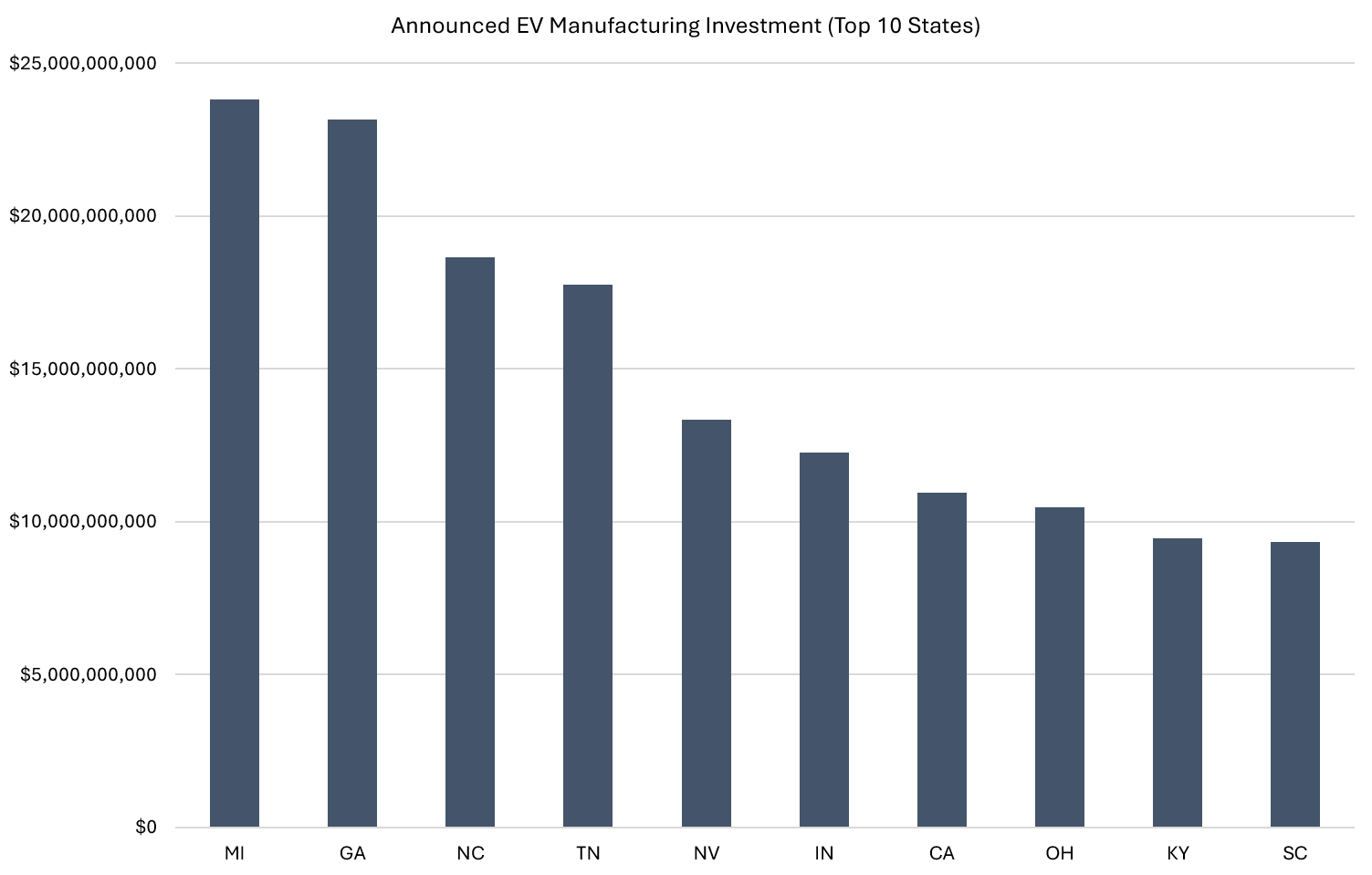 As of November 17, 2023, there has been $173 billion in investments in electric vehicle and battery manufacturing, leading to 212,000 announced jobs in the United States. The rate of change since the passage of the Inflation Reduction Act (IRA) has been dramatic. In the 11 years before IRA, $91 billion had been announced, compared with $82 billion in the 15 months since.  
The data comes from EV Jobs Hub, a new dashboard tracker from BlueGreen Alliance Foundation and Atlas Public Policy. EV Jobs Hub tracks the supply chain from battery component creation at the anode and cathode level through vehicle assembly and battery recycling, as well as charging network investments. Battery production has been the focus of these investments, with 64 percent of the total funding going toward batteries.
Tracked data includes investment from private companies, federal support through the Department of Energy at a facility level, state subsidies, whether investments are going to disadvantaged communities, jobs announced, union status and congressional districts among other key indicators. Information is sourced from company and government announcements. See more on the data collection methodology here. This information is critical to tracking the success of the build-out of a domestic EV supply chain, supported by the Inflation Reduction Act and the Infrastructure Investment and Jobs Act.
The investments are overwhelmingly going into districts represented by Republicans in Congress (74 percent) and a large proportion of the investment will go to disadvantaged communities (42 percent). Michigan and Georgia have received the most announced investment so far with both states now above $23 billion in announced private investment. The so-called Battery Belt is a big winner as well, with North Carolina and Tennessee receiving the third and fourth-most investments respectively. These investments are often encouraged by state and local subsidies, which amount to $20 billion nationally. Governments in Michigan, Georgia and Tennessee have spent the most to entice companies to set up shop in their states. Total Federal program support for these facilities – primarily from the Advanced Technology Vehicles Manufacturing loan program and the Battery Materials Processing and Battery Manufacturing Grants – is approximately $18 billion.
Announced jobs follow a similar pattern. Georgia leads all states with over 28,000 planned manufacturing jobs, followed by Michigan with around 25,000 jobs. Texas is not far behind with 21,000 announced jobs, of which 20,000 come from Tesla alone. The top five largest investors are LG Corporation ($20 billion), Tesla ($15.7 billion), General Motors ($15.5 billion), Toyota ($14.8 billion) and Ford ($11.9 billion).
One focus of the dashboard is the quality of new jobs. As of now, only 22 percent of existing facilities are unionized. This number may change over time as new facilities come online, but it falls short of President Biden's Investing in America Agenda, which emphasizes the creation of high-paying union jobs.
However, negotiations from the United Auto Workers (UAW) union with the Big Three automakers brought some victories that indicate a path forward for unionization of EV and battery factories. Now that all the agreements have been ratified by workers, Ford will staff the Marshall Battery Plant in Michigan, a facility currently under construction, with UAW members, and will shift union workers to its Tennessee Electric Vehicle Center. Stellantis has agreed to reopen and expand its factory in Belvidere, Illinois to include battery manufacturing with union workers, and GM will bring workers at Ultium, a subsidiary battery manufacturer, under the master agreement with the UAW. These developments all indicate the potential for EV and battery workers to become an important pillar of the UAW going forward.  
EV Jobs Hub is updated weekly with new investments and announcements, and all the data is available to download.
Correction: The title of this story has been updated to reflect the fact that it is 47%, not 53% as originally published. 
About the author: Sophie Latham