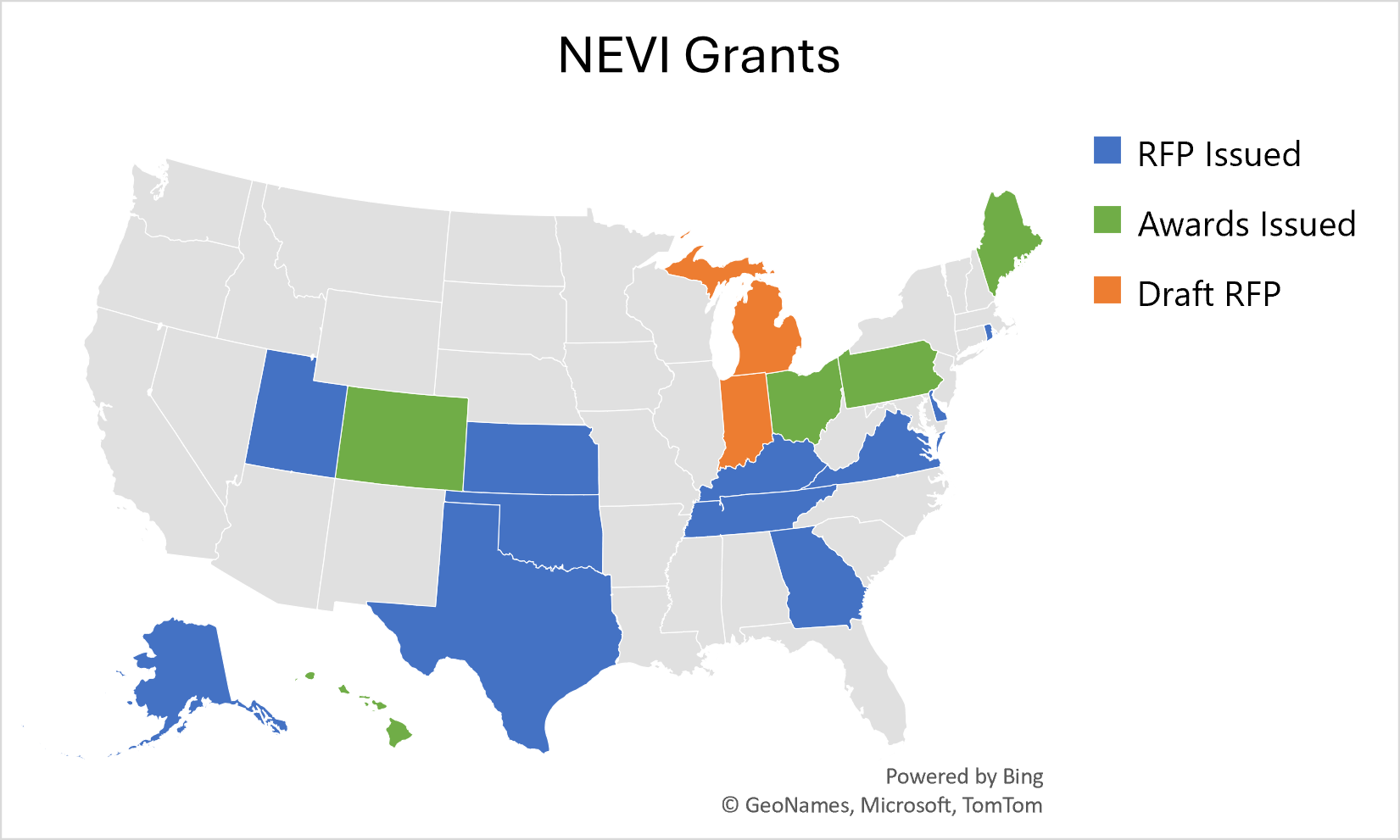 The map above covers the state of NEVI grant applications, both historical and current, through August 2023. Source: NEVI Dashboard
It's been a busy year for states for the implementation of the National Electric Vehicle Infrastructure (NEVI) program. Not only were Year 2 plans due to the Federal Highway Administration on August 1st, 2023, but many states have been fine-tuning and releasing their Request for Proposals (RFPs) for NEVI-funded chargers. At the time of this digest, approximately sixteen states have solicited applications from prospective charging vendors. Now, five states have announced awards for those contracts: Hawaii, Ohio, Colorado, Pennsylvania, and Maine.
Hawaii: On July 11th, the Hawaii Department of Transportation (HDOT) announced that Tritium will be the sole provider of NEVI-funded chargers on the islands for the first round of funding. HDOT will be procuring a total of eight Tritium NEVI systems comprising 32 fast chargers each capable of delivering 150 kW. HDOT procured the chargers through an existing contract with Sustainability Partners who in turn procured the Tritium chargers through Aloha Charge, a National Car Charging company. They will be equipped with software developed by EV Connect. By the end of 2023, four fast chargers are slated to be installed on both Oahu and Maui for a total of eight chargers– likely the first NEVI chargers to be installed in the country. The state was also granted permission to site chargers at a greater distance beyond the program requirement of every 50 miles.
Ohio: Next, Ohio Governor Mike DeWine announced on July 13th that the state will award more than $18 million in NEVI funds for 27 electric vehicle fast charging stations along seven of Ohio's interstate corridors. Additionally, the $18 million will be matched with $6 million for the selected private companies to install and operate the chargers. EVgo was selected as the turnkey provider for 20 out of 27 fast charging sites, with ChargePoint, SKSignet, and Tritium making up the remaining bids. According to the press release, the Ohio Department of Transportation (ODOT) will release its second RFP this fall to install an additional 16 fast chargers.
Colorado: On August 3rd, the Colorado Energy Office (CEO) awarded $17 million across 36 different sites through its Direct-Current Fast-Charging (DCFC) Plazas program, which is funded by NEVI. CEO expects these chargers to become available by the end of 2025. Tesla led the way, winning 10 of the 36 sites announced. In addition, the press release states that CEO will release two DCFC Plazas funding rounds per year, and the next round of funding will open this fall.
Pennsylvania: PennDOT conditionally awarded a total of $33.8 million for 54 NEVI charging projects. Of the 54, Tesla was awarded $2.7 million in funding, or 12 contracts, and Sheetz was awarded $3.1 million across six sites. A full list of PennDOT's conditional awards can be found here.
Maine: Lastly, the Maine Department of Transportation, Recharge Maine, and Efficiency Maine announced more than $6 million in NEVI funding across seven sites. In addition, five more sites have received funding for EV charging through the Maine Jobs and Recovery Plan (MJRP) grant program. The chargers are expected to become operational by next year.
As these states are early movers in the NEVI program, it's likely that this first round of funding will be critical for informing future rounds, both internally and across the country.  Currently, eight states have active NEVI solicitations including Delaware, Oklahoma, Virginia, Utah, Kansas, Texas, Tennessee, and Georgia. Visit our NEVI Dashboard for more.
About the author: Moe Khatib