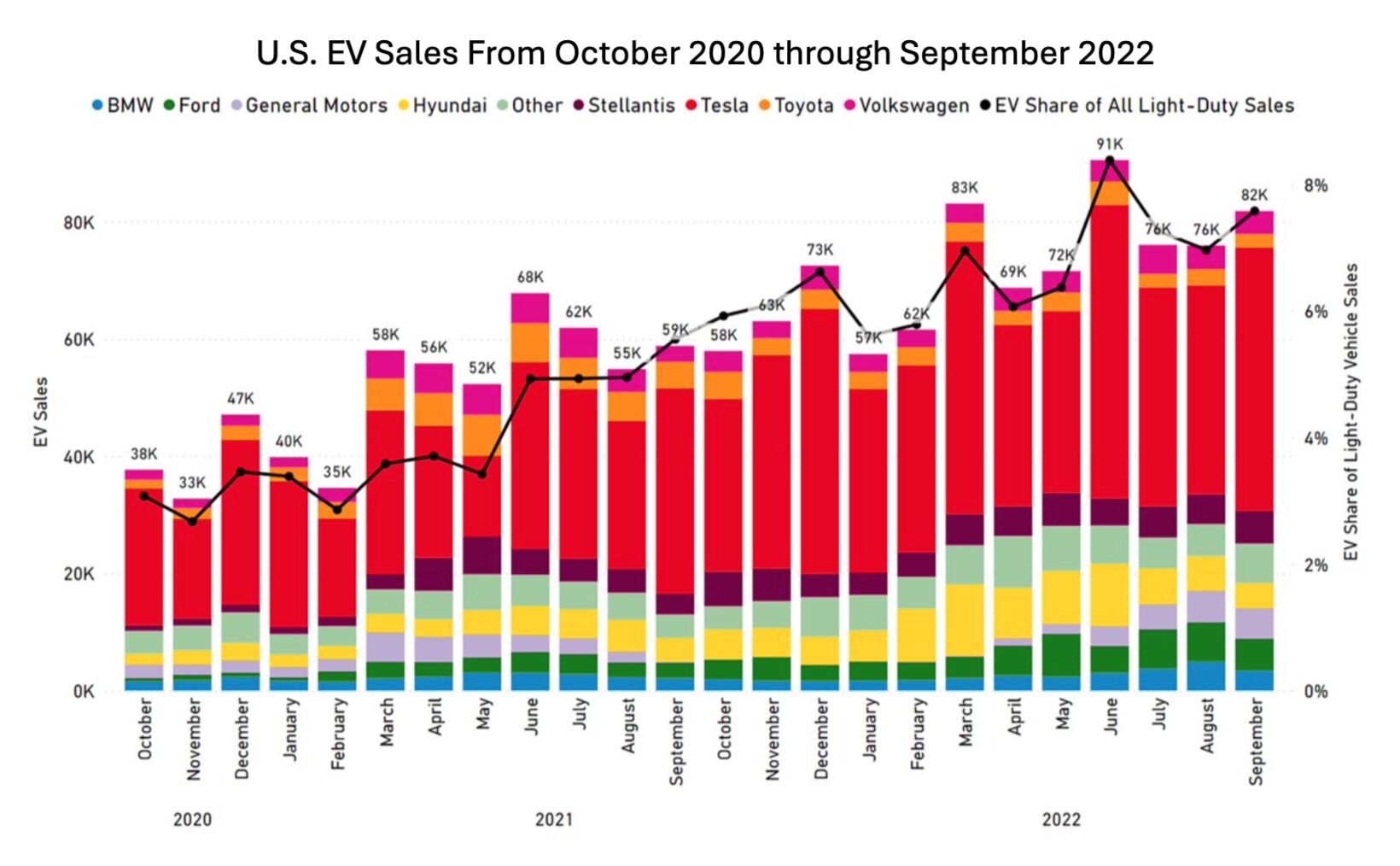 We have just published our Q3 Quarterly Review (for July, August, and September 2022). The slides bring together key developments from the EV market. Here are three stories that caught our eye.
EV Sales break record
We once again see a record-breaking quarter for EV sales. Below are numbers that are worth noting.
233,000 EVs sold in Q3 2022 – 37 percent increase from Q3 in 2021

EVs had a market share of 7.3 percent for light-duty vehicles, the highest on record

Tesla captured 51 percent of light-duty EV sales in the quarter showing its continued strength
While Tesla remains dominant in the EV market, there are a number of other EV makers that are catching up to speed. Ford is now second to Tesla in total sales, with the F-150 and Mustang Mach-E gaining popularity. Additionally, the Bolt was the best-selling non-Tesla EV this quarter with its strongest quarter yet. This shows a remarkable rise after a recall of the vehicle.
Single-Largest Quarter of Announced U.S. Battery Investments
In Q3 of 2022, a record $19.1 billion was announced for EV manufacturing in the United States. Of that number, $17.8 billion was announced for battery production and recycling alone, the most we have ever seen for domestic battery investment to date.
This quarter saw a significant investment by Redwood Materials. The company announced plans to invest $3.5 billion in a battery recycling facility in northwest Nevada, expected to create 1,500 jobs. According to Reuters, this facility is expected to be one of the first in the U.S. to manufacture the key ingredients needed to make EV batteries.
Moreover, lithium-ion battery maker Gotion confirmed plans to invest $2.4 billion in a manufacturing facility near Big Rapids, Michigan. This proposed facility is considered the state's largest-ever economic development project in its northern region and is set to create 2,350 new jobs, focusing its production on energy storage components for electric vehicles.
Lastly, Toyota announced a $2.5 billion investment to expand its most recent North American site in North facility. This investment will foster battery electric vehicle production and create 350 new jobs, with production scheduled to begin in 2025.
IRA becomes law, IIJA speeds up
Policy activity for transportation electrification during this quarter will be one for the books. For one, the Inflation Reduction Act (IRA) was signed into law in August 2022. This sweeping climate legislation authorizes billions of dollars in funding for transportation electrification and tax credits for used EVs, medium and heavy-duty EVs, charging, and EV manufacturing. More details on the IRA and EV incentives can be found in a previous digest here.
Next, it has now been a year since the influential Infrastructure Investments and Jobs Act (IIJA) was enacted. Through the passage of IIJA, we have seen a number of programs unfold this quarter, including the increased funding for the Clean School Bus Program and grants for significant surface transportation projects under the RAISE program. Additionally, the Federal Highway Administration approved all 52 NEVI plans in September, greenlighting $1.5 billion in funding for FY2022 and FY2023 to support the buildout of a national EV charging network.
View the Q3 Review here.
About the author: Moe Khatib