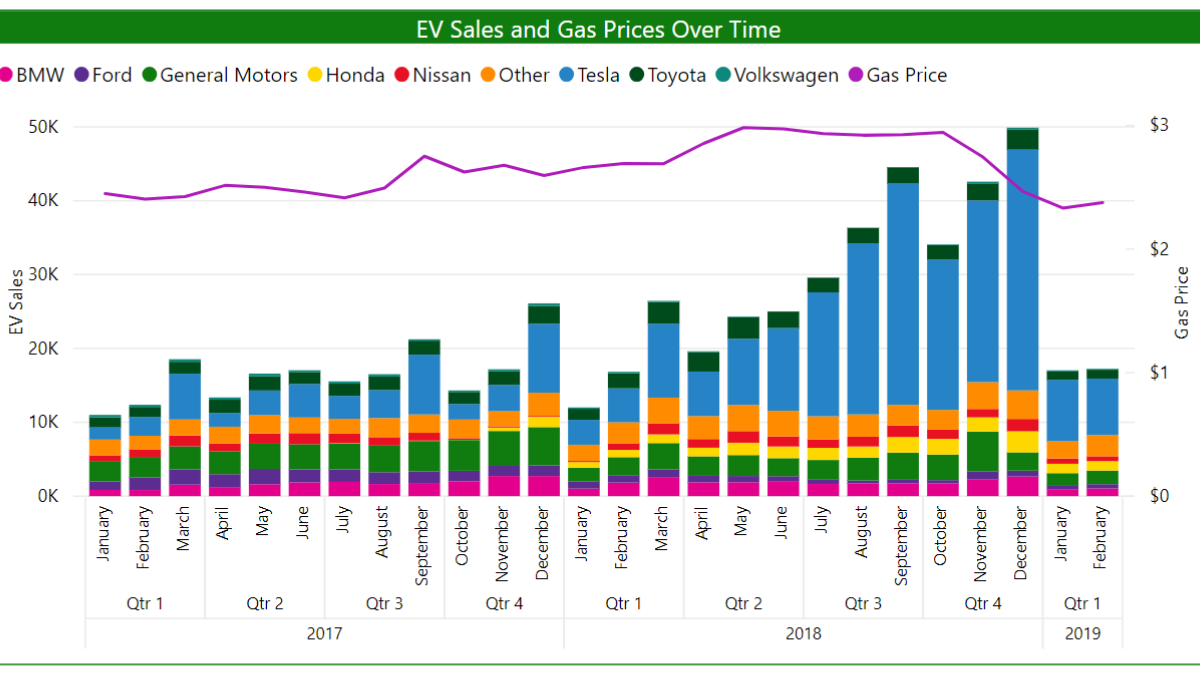 Following a roaring end to the 2018 U.S. market cycle, growth in the electric vehicle (EV) market appears to have slowed in 2019. Quarterly EV sales hit an all-time high of over 126,000 vehicles sold in the fourth quarter of 2018. While a moderate drop in sales between December and January is common, sales fell 66 percent from 49,900 vehicles in December to just 17,040 vehicles in January. Analysts predict a 40 percent growth rate in the global EV market in 2019, down from 70 percent in 2018.  
Year over year, January 2019 sales were still 42 percent higher than the same month last year. However, February 2019 sales increased less than three percent over the same month in 2018. With just under 35,000 vehicles sold so far in 2019, March will have to be a stronger month for EVs compared to last year in order for sales in quarter one of 2019 to surpass 2018.
Without the continued high performance of the Tesla Model 3, 2019 EV sales-to-date would have shrunk in comparison to last year. The Model 3 accounted for almost 40 percent of the entire national EV market in 2018 and is a good indicator of trends in the overall market. Tesla officials have cited the phasing out of the federal tax credit as one explanation in response to the Model 3's 74 percent sales drop from December to January. Others have called attention to the automaker's shift to focus on deliveries in the European and Chinese markets through the first quarter of 2019. This shift has raised questions about the demand potential for Tesla on the U.S. market amid ongoing efforts to slash prices for the Model 3.
As growth in the EV market is showing some early signs of slowing, it is unclear what will fill in the gaps. Tesla prepares for the launch of the Model Y on March 14, although it is unlikely that the anticipated $40,000 crossover will hit production before 2020. Last week, we discussed the significance of the end of the Chevrolet Volt. With sales for its all-electric cousin the EV Bolt dropping 20 percent from 2017 to 2018, there is lingering uncertainty around who will step up as a leader in the U.S. EV sector to drive growth.
Whoever does emerge will face some daunting global trends. On Friday, Bloomberg reported on developments in the Chinese auto market which is facing its first annual drop in over two decades. This is raising concerns for a wider slump across the global market, which has been reflected in the overall U.S. domestic market where car sales across all fuel and class types have slowed in 2019. Slow growth has yet to inhibit the development of new all-electric models, and U.S. leaders like Tesla face a growing pool of competitors jockeying for leadership in a market they are all betting on.
About the author: Nick Nigro