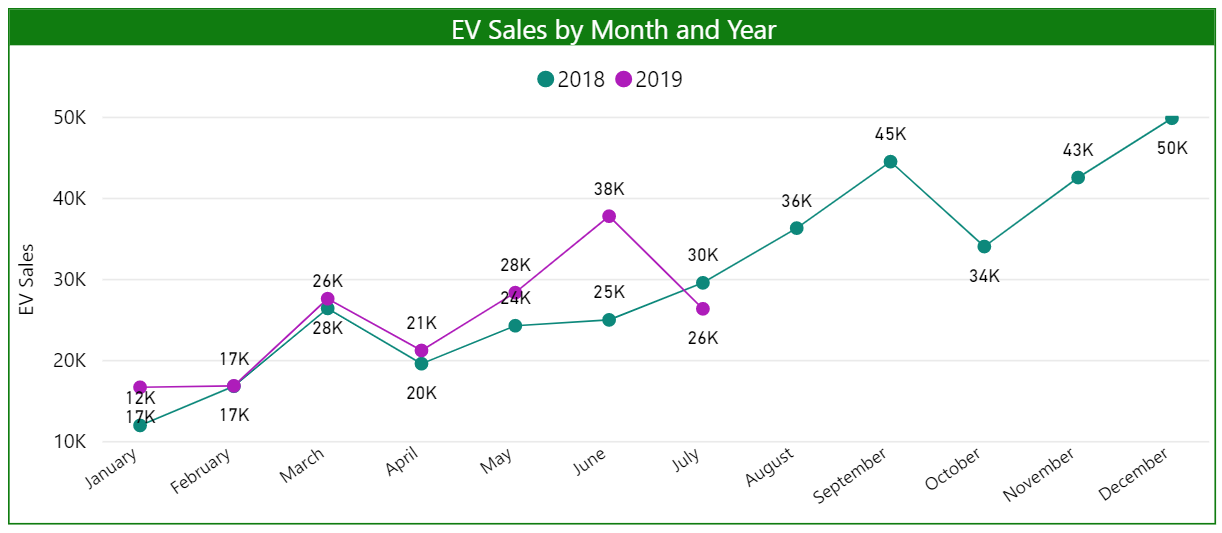 Since posting 50 percent growth in June compared to 2018, the EV industry has taken a hit. Following the first monthly sales dip in more than three years this July, August marks the second consecutive month of falling sales in the U.S. EV market. July saw the market shrink by more than 10 percent compared to 2018 and the decline for August could be even steeper.
So far for August, Inside EVs, where the National EV Sales dashboard sources its data from, reports only 24,020 vehicles sold for the month. However, this does not include figures from automakers including GM, Kia, Hyundai, Volvo, and Porsche due to a shift in the way InsideEVs is tracking sales. Several of these automakers have shifted to quarterly reporting while others including BMW and Mercedes no longer provide a model breakdown of their respective EV sales. These changes will delay when we can add new monthly sales data to the National EV Sales dashboard.
While the remaining unreported numbers will increase the monthly sales total when shared, they would need to buck the overall trend of EV sales to cover the 12,327-vehicle gap required to reach the 36,347 EVs sold in August 2018. Automakers have their work cut out for them if the EV market is to recover through the rest of 2019. September, November, and December of 2018 are the top three all-time months for U.S. EV sales with more than 40,000 vehicles sold each month. The full commercialization of the Model 3 was primarily responsible for this surge, but even this market leader saw a 26 percent dip in sales last month compared to August 2018. Tesla attributes this to an ongoing focus on sales in the international market where the Model 3 was the third-highest selling vehicle in markets like the U.K. in August.
Tesla's sales have not been enough to sustain the EV industry in the United States, as EV sales have been moving in the opposite direction compared to the overall auto market over the last two months. The U.S. auto market posted strong sales in August with a year over year increase of more than ten percent in combined sales for passenger cars and light trucks according to the Bureau of Economic Analysis. It should be noted that this is due to strong sales of light trucks, a category which includes trucks, minivans, and sport utility vehicles; there was a roughly one percent decrease in sales of passenger cars. This comes as news arrives of declining auto sales in leading international markets including China and India. Bloomberg reports that August marked the 14th dip in 15 months for the Chinese auto market while sales in India are also falling.  
The regulatory environment at the federal level is unlikely to help automakers through the remainder of 2019. Last week, the Trump administration issued a warning to California that the state could be sued for establishing an independent emissions deal with leading automakers back in July. In the July agreement, manufacturers Ford, Honda, Volkswagen, and BMW agreed to limit emissions from vehicle fleets and comply with tougher standards. Last week's announcement sets the stage for a legal battle over vehicle emissions in the nation's largest auto market and could influence the power that states have to regulate regional EV markets amid a lack of federal support.
About the author: Conner Smith